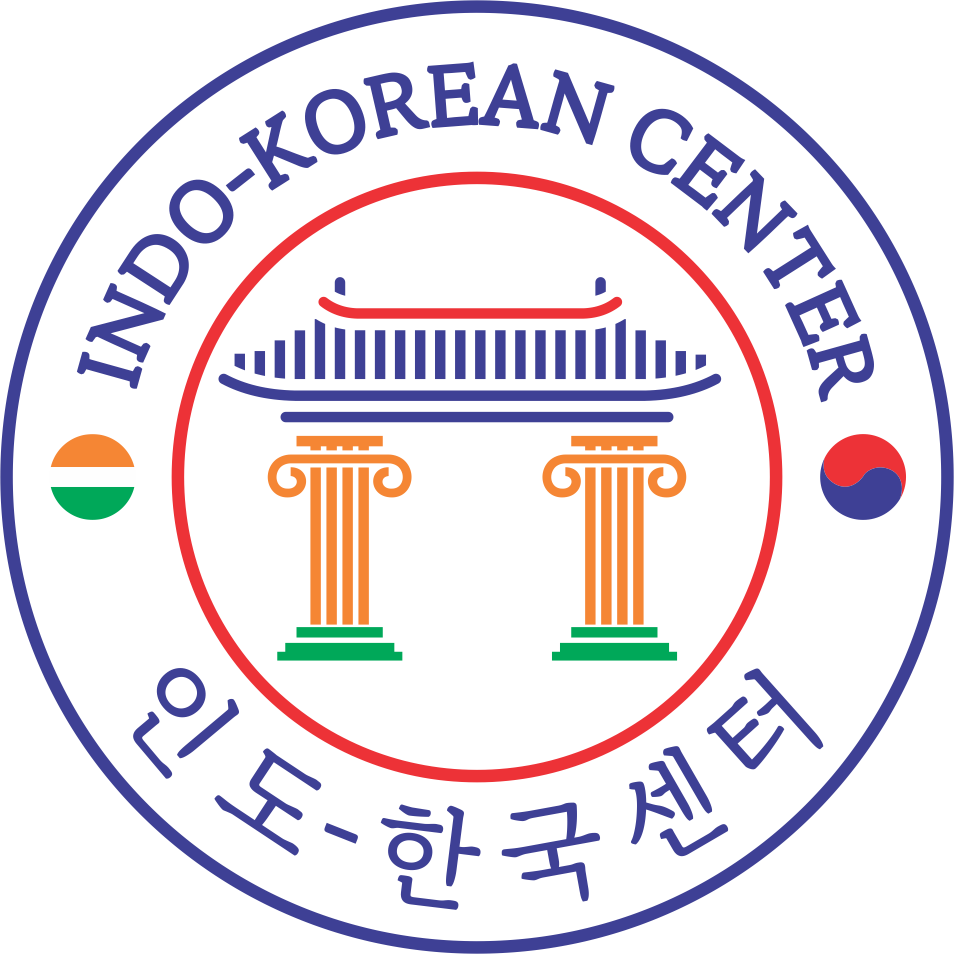 The Indo-Korean Center logo reflects the two nations with their national flag colors, the Korean roof on the Indian pillars together providing shelter and foundation to the center activities.
Indo-Korean Center (IKC) was jointly founded by Youth Build Foundation (an educational trust registered under S.R. Act 1860 & M.P.T. Act 1950) and Kiwa Consultants Pvt Ltd under an MOU signed in March 2021. It became the first Indo Korean Center in Western India. Henceforth, the IKC has been functioning under the YouthBuild Foundation. The main objective of this center was to build a platform to facilitate opportunities for the general public and to connect Indian & Korean people. Youth Build Foundation is an educational trust registered under S.R. Act 1860 & M.P.T. Act 1950, which operates  the MIMA Institute of Management (www.mima.edu.in, courses approved by AICTE, ministry of HRD, Govt.of India) & the MIS International School (www.mis.edu.in), and, Kiwa Consultants Pvt. Ltd., who are engaged into management consultancy services to Korean organizations and executes educational, cultural and social projects.
Our partners are reputed Korean organisations like the Academy of Korean Studies (Ministry of Education, Republic of Korea), Consulate general of ROK in Mumbai, Overseas Koreans foundation, KOFICE, Posco Maharashtra steel, KOTRA (mumbai), Korean association of Pune, Yonsei University (Mirae,South Korea).
Main Focus: IKC focuses on Education, Cultural engagement between people and Korean language-level-based programs, Corporate training in the Korean language, Education and business tours to Korea (May and October), promotion of Korean organizations, Indo Korean Cultural events and language research projects. The center has  appointed only native Korean teachers for imparting training and development in Korean language and cultural courses, a research lab. for Korean studies, Korean scholarship, Korean University educational fair and consultancy services, education, cultural and industrial tour to Korea, collaboration facilitator and an industrial-academic platform for its students and members." The level based Korean language program is available in both online and offline modes.IKC offers, elementary, intermediate and advanced levels of Korean language training program following The standardised Sejong Hangugeo curriculum infused with IKC proprietary modules. Each level lasts for 4months/75-85hours of training. The program is rerun thrice a year in both Online /Offline formats. The IKC also organises and hosts various Indo- Korean cultural programs   throughout the year.
Admission to all levels are open thrice a year. The program details and next admission dates can be found in the language program page. (Link)
It is located in the premises of MIMA institute of management in Pune and has exclusive classroom, recreational zone, executive office, incubation center, Korean library, caffeteria and selfie corner, image gallery, and have a fusion of Indo-Korean work culture.
Instagram

---
Director's message:
Namaste 안녕하세요!
The IKC platform will facilitate sustainable opportunities for students and its members. The center with its dedicated team of academic and administrative professionals operate and implement all its programs. These programs bring the expertise from both the communities to benefit each other. I would like to see more collaboration projects between academicians, artists and industries across communities.
The center is located within the new and modern facility of the MIMA Institute of Management with Korean design inputs.
This center will play a pivotal role for developing the relationship between India & Korea. I wish to receive your support and cooperation.
Thank you.